Slide 1
FootfallCam
World's No.1 People Counting System
FootfallCam uses advanced people counting technology that is proven to be accurate in any condition. Multiple units of people counter will be able to combine their data and cover multiple entrances in a single store.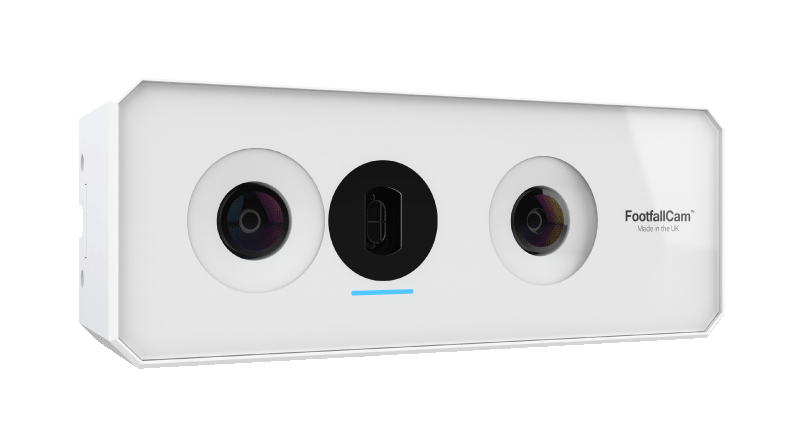 Delopt
Delopt 's People Counting Systems like Human Counting System & Door Counter Devices. We are leading providers of shopper counting solutions for retail stores, malls, theatres & buildings.
A footfall camera, also known as a people counting systems, is a device that accurately measures the number of people entering or exiting a certain area. This technology has become increasingly popular in retail stores, shopping malls, and other businesses to track foot traffic and make informed decisions about marketing, staffing, and operations.
Introducing Footfallcam 3D Plus – People Counting Systems
Footfallcam 3D Plus is a leading people counting systems that uses advanced 3D imaging technology to provide highly accurate data about foot traffic. The system can differentiate between people and objects, and it can even count multiple people passing through the same area at the same time. Footfallcam 3D Plus is also equipped with intelligent algorithms that can filter out unwanted data, ensuring that you get accurate and actionable insights.
The Benefits of Footfallcam 3D Plus
Using Footfallcam 3D Plus can provide several benefits for your business. By accurately tracking foot traffic, you can:
Optimize staffing levels to ensure that you have enough staff on hand to serve customers during peak hours.

Analyze customer behavior and identify the most popular areas of your store, helping you make informed decisions about product placement and marketing.

Measure the success of marketing campaigns and promotional events by tracking foot traffic before and after the event.

Improve customer satisfaction by identifying areas of your store that may be causing bottlenecks or delays.
Technowave: The Best Distributor of Footfallcam in Dubai
If you're looking for a reliable distributor of Footfallcam 3D Plus in Dubai, look no further than Technowave. As a leading supplier of technology solutions in the UAE, Technowave has the expertise and experience to help you find the perfect people-counting system for your business. With competitive pricing and top-notch customer support, Technowave is your go-to source for all your footfall counting needs.